Niki Scheppers' Portfolio Homepage
Welcome to my Leadership Project Portfolio.
Biography
Educational Background
Nicole Scheppers was born and raised in Northridge, California, a small suburb of Los Angeles located in the San Fernando Valley. Nicole attended Chaminade College Preparatory High School ('01), and upon graduation Nicole attended Loyola Marymount University ('05).  At Loyola Marymount, Nicole earned her Bachelor's of Arts degree in Liberal Studies, Education with a minor and concentration in Spanish.  In addition, while at LMU Nicole received her California state Multiple Subject Teaching Credential.  After graduating from LMU Nicole attended New York University ('09) and obtained a Master of Arts in Literacy.  Nicole furthered her education by attending the University of California, Los Angeles' Principal Leadership Institute receiving a Master's in Education ('14) as well as a Tier 1 Administrative Credential.  Nicole continues to strive for excellence, participate in the process of learning and develop as a professional.  In the future Nicole hopes to obtain a Doctorate in Educational Policy from Stanford University.
Professional Experience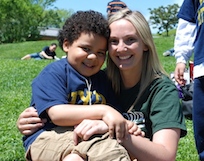 During her professional career, Nicole has worked in both a charter and private setting in Los Angeles and in the South Bronx of New York.  From 2006-2008 Nicole worked at a private Catholic School in North Hills, CA, Our Lady of Peace in a self-contained second grade classroom.
After graduating from NYU Nicole taught in an urban charter school from 2009-2011 working in the South Bronx, NY in Hunts Point teaching in a self-contained first grade classroom.
Nicole returned to California in 2011 where she began teaching at St. John Eudes Catholic School in Chatsworth.  She taught in a self-contained fifth grade classroom (2011-2012) and then looped with her students to middle school.  Nicole then worked as the middle school Literature, English and Religion teacher for two years (2012-2014).  In addition to her classroom responsibilities Nicole acted as grade level leader, mentored a first year teacher, started an NJHS chapter on-campus and served as faculty adviser and coached boys and girls volleyball during after-school sports.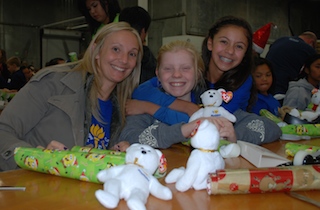 Personal Experience
Nicole decided to become an educator at a young age because she was passionate about working with children.  During her high school and college careers Nicole worked as a summer camp counselor at Sierra Canyon Day Camp in Chatsworth, CA with children ages 5-15 for seven summers (1997-2003).  Since leaving Sierra Canyon Nicole has worked with summer school programs in both New York and California fostering students' intellectual abilities and providing support to students (ages 7-13) during their summer breaks.  Working in different states and in different educational settings has provided Nicole with the opportunity to see the current systemic inequities in education prompting her to take on a leadership role.
Future Goals
Nicole would like to continue her career in education as a school leader.  Working at the administrative level would provide Nicole the opportunity to inspire and create change for improvement in our schools.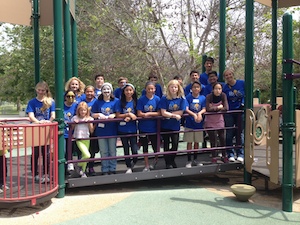 Nicole seeks leadership opportunities where her dedication, teamwork, organization and attention to detail will be valued.  For example, her collaborative spirit enables her to appreciate and embrace multiple perspectives as well as practice inclusiveness.  This is essential in collaboration and completing tasks in a respectful and productive way.  In addition, Nicole is a highly organized individual.  Nicole's organizational skills enable her to manage her time in order to take on multiple tasks at once and still ensure they are done effectively.
Nicole is motivated and determined to provide an equitable and excellent education for all student.  This passion drives Nicole to challenge herself, continuously learn and constantly reflect on pedagogy and best practices.  Collaboration, organization and determination are assets in working with a multi-faceted staff on a daily basis and are some of the skill sets that Nicole brings to any organization.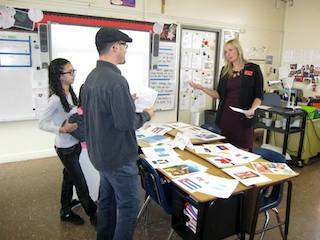 Nicole is reflective in her practice and considers herself a lifelong learner, dedicated to educating herself and others about justice, equity and equality.  Nicole feels that administrative work in education would provide her the opportunity to coach and mentor educators as a leader of curriculum and instruction and work towards providing all students with an equitable and excellent education.  As an advocate of social justice and restorative justice Nicole would enjoy working in a leadership capacity building relationships with students and families offering them support and guidance with behavior and discipline building school and family relationships.
Nicole looks forward to opportunities as a future leader where she is able to develop students as global citizens, college and career ready, prepared to succeed in the 21st Century.
RESUME and COVER LETTER
CONTACT: nascheppers@gmail.com
CLASSROOM WEB PAGE: http://sje6thgr.weebly.com
UCLA FIELDWORK SUPERVISOR: Dr. Merle Price, mprice@gseis.ucla.edu
School
History
St. John Eudes Catholic School was founded in 1966 to guide students to develop an inner strength of values and standards, St. John Eudes School is fully accredited by the Western Associated of Schools and Colleges (WASC), as well as the Western Catholic Educational Association (WCEA).  SJE School is also a members of the National Catholic Educational Association (NCEA).

The Sisters of the Pious Schools are SJE School's founding religious community, teaching and guiding thousands of children in the spirit of their foundress, St. Paula Montal, "to save families, teaching children the love of God". St. John Eudes further embrace this spirit by teaching and inspiring students to be life-long learners who live their faith and grow in their personal, moral, social, and academic development. St. John Eudes School continues to reflect the educational mission of the Sisters – joy in teaching, fostering the dignity of each person, and building family life. These values are reinforced by behavior standards in and outside the classroom. And students are expected to care for one another as an expression of their faith and as a reflection of the charism of St. John Eudes, the school's patron saint.
Mission and Philosophy
St. John Eudes' educational goals are defined in the school's Mission Statement:
"It is the mission of St.John Eudes School to educate students with Christian morality, character, compassion and integrity, to live as committed followers of Jesus Christ as faithful members of the Catholic Church and to succeed in the 21st century as responsible learners, productive leaders, and caring citizens of their communities and environment."
The philosophy of St. John Eudes is founded on educating students in faith and knowledge:
"St. John Eudes School accepts the mission of educating students in faith and knowledge.  We model Jesus Christ by centering our teaching on integrating faith, life, and learning, building community, and providing opportunities fo worship.  We concentrate on building character, learning as a process, valuing self-esteem, respecting individual differences and education for service.  We are committed to professing the spirit of Saint Paula Montal by nurturing Christian values, providing quality education and supporting families in teaching our Catholic faith.  We follow the charism of St. John Eudes by fostering Christian service and demonstrating compassion to those in need.  While parents serve as the primary educators, we serve as facilitators of learning that teach students to think, learn and make decisions."
Students
At St. John Eudes School students study a core curriculum corresponding to frameworks in English, reading, spelling, science, social studies, handwriting, art, music, math, religion, and physical education. Students benefit from the individualized attention they receive and from the high expectations that teachers and parents hold for them to do their best. At St. John Eudes School each student is valued for their own unique gifts and not just for their academic standing – a reflection of the sense of individual dignity which is central to the mission of SJE.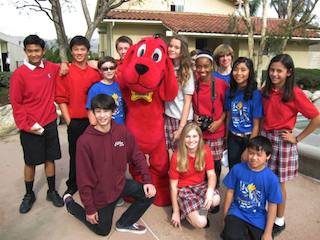 St. John Eudes School fosters the education of the whole child preparing each one for leadership, responsibility, and citizenship. The rigorous academic program based on Schoolwide Learning Expectations challenge students to think critically, use technology responsibly, develop intellectual curiosity, and grow in social behavior. Student activities, along with a comprehensive athletic program, foster interpersonal skills, self-discipline, and service. Student-centered, SJE School provides opportunities for students to develop and practice their leadership and teamwork with adults, peers, and younger students.
St. John Eudes School is located in Chatsworth, CA a small, affluent suburb of Los Angeles' San Fernando Valley.  As of October 2014, St. John Eudes School's student enrollment was 282 students in grades kindergarten through eight (see below).  St. John Eudes serves a unique student body educating students to Live, to Love, to Learn, and to Leave a Legacy at St. John Eudes School.  St. John Eudes appreciates each student and family as a valued member of the community all of whom share a moral vision that generates respect amongst teachers, parents, and students and lends itself to a common purpose.  Throughout the curriculum, quality character education and moral values are fundamental to the school's mission and educational program.
Project Web Pages
Project 1: National Junior Honor Society (NJHS) Faculty Adviser
Project 2: Middle School Grade Level Leader (Grades 6-8)
Leadership Project:
Part 2: Professional Development
Part 4: CCSS K-8 Grade Level Reading Assessments
Other: